Bryan Toilet Repair & Installation Plumbers
Fast & Accurate Toilet Repair in College Station & Surrounding Areas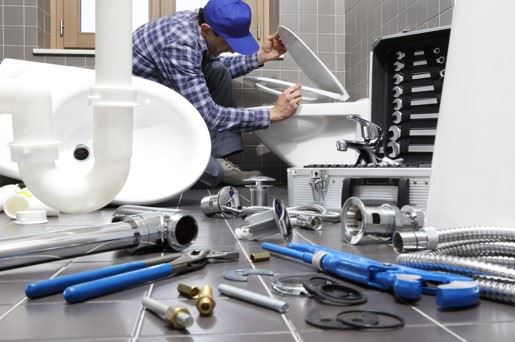 Perhaps the most essential fixture for your home or business is a toilet. It's something you can't go without. The problem is there are numerous unforeseen issues that could crop up. Your toilet could be damaged, there could be a clog, it could start leaking, or there could be one of many mechanical failures that keep it from working properly.
The Action Plumbing team offers reliable installation, repair, or replacement of comfort height toilets, in addition to regular toilets. Comfort height toilets are more common among the elderly, but the additional two to four inches of height can also be more convenient for taller people or anyone with mobility issues.
Schedule an appointment by calling our Bryan toilet repair and installation team at (979) 335-8515 today. We are available around the clock to ensure that you are never without a working toilet.
5 Signs You Need Toilet Repair
1. Your toilet is leaking - You don't want to leave leaks any longer than you have to because of the possibility of mold growth and water damage restoration so give our College Station toilet repair experts a call pronto.
2. Weak flushing - This is either caused by something wrong with your toilet or perhaps you have hard water that's negatively affecting your toilet.
3. Inconsistent water levels - If your fill tube has been damaged or thrown out of place this could result in your toilet bowl having inconsistent water levels. It could also be that your sewer line is clogged so give us a call.
4. Phantom flushing - If your flapper is significantly worn out it will be unable to properly regulate your unit's flushing. This means that your toilet will flush out of nowhere for seemingly no reason at all.
5.Your bowl is slow to fill - Your water-shutoff valve is likely malfunctioning here and your toilet bowl won't fill up as fast so give our College Station toilet repair experts a call.
Finding Solutions to Urgent Plumbing Problems
Any of a number of issues could make it impossible to use your toilet, which is why you need an experienced toilet repair or replacement plumber. Our team of experts is fully certified to handle all toilet repairs and installations and will have your toilet working again in no time. If your toilet is clogged, we can find the source of the clog and remove it. We can also fix leaks that result in water all over the bathroom floor. If your toilet is not flushing, we will figure out why and correct the problem.
Immediate Toilet Repair from Our Emergency Plumbers
Since Action Plumbing is available 24/7 for emergency services, you can feel free to contact us whenever you need us to take a look at your toilet. We provide commercial and residential toilet plumbing services throughout Bryan, College Station, and the surrounding areas.
No matter what the issue is, our plumbers can handle all the necessary toilet repair or replacement promptly and efficiently. Contact us at (979) 335-8515 and let us know what is happening with your toilet. We're happy to help.
Our Customer Reviews
See What They Have to Say About Us!
I recommend them for fast, professional service - Ginny S.

Very satisfied with the work. - Katie W.

I cannot express how great these guys are - Jean E.

The guys worked great and communication was amazing - Blaine K.

They are the plumber I will call every time I have an issue! - Seth S.